Full HD Movie Live Streaming: The Gentlemen (2020)
We had to wait some time for that. Guy Ritchie is back in his own personal territory. After three really mediocre films, CODENAME UNCLE, KING ARTHUR and ALADDIN, he again relies on his core competence of contradicting dialogues, inconspicuously tough men and absurd death scenes. Everything paired with grandiose editing sequences and a narrative camera, which adds another level to the respective situation. These stylistic devices summarized have been copied more or less successfully many times, but hardly at this atmospheric, entertaining level. Ritchie was able to transfer his quirky narrative technique for strangely nested stories fantastically to the two parts of SHERLOCK HOLMES, and after a creatively unsuccessful pause he is in the old,
Guy Ritchie simply resigned 150 million dollars after the disastrous ALADDIN and made a small, fine gangster film with a mere 22 million. With THE GENTLEMEN, small but nice means that it is already down to earth in the very big gangster world, but takes place in an almost intimate togetherness between the heads of the individual criminal groups. There is Mickey, who wants to sell his huge marijuana empire, with gigantic plantations that are so ingeniously hidden and monitored that envious people immediately queue up. The coach trains formerly criminal youths, but the higher purpose of this cannot be seen through. Matthew, on the other hand, is the potential buyer, but also seems to want to go completely different ways. Lord George, on the other hand, is an open competitor with an undisguised agent towards Mickey. Tom Wu as Lord George, with his opaque lackeys, forms the group of the devious foreigner who was deliberately staged as a quota Asian. Hardly any filmmaker dares and manages to use the cliché so blatantly without causing offense.
In between, the devious Fletcher romps in dialogue with Mickey's right hand Ray. And here the big sticking point of THE GENTLEMEN is woven into the web of normal madness. Hugh Grant plays this Fletcher, who pretends to be cocky and superior, while pretending to be one of the really cool and particularly sophisticated guys. The problem is, you just don't buy that role from Hugh Grant. There was a reason why Grant was always cast as the charming and reserved mother-in-law type. And unfortunately he cannot get out of it with this role either. Grant had 40 script pages of text out of 115 minutes, and that's huge.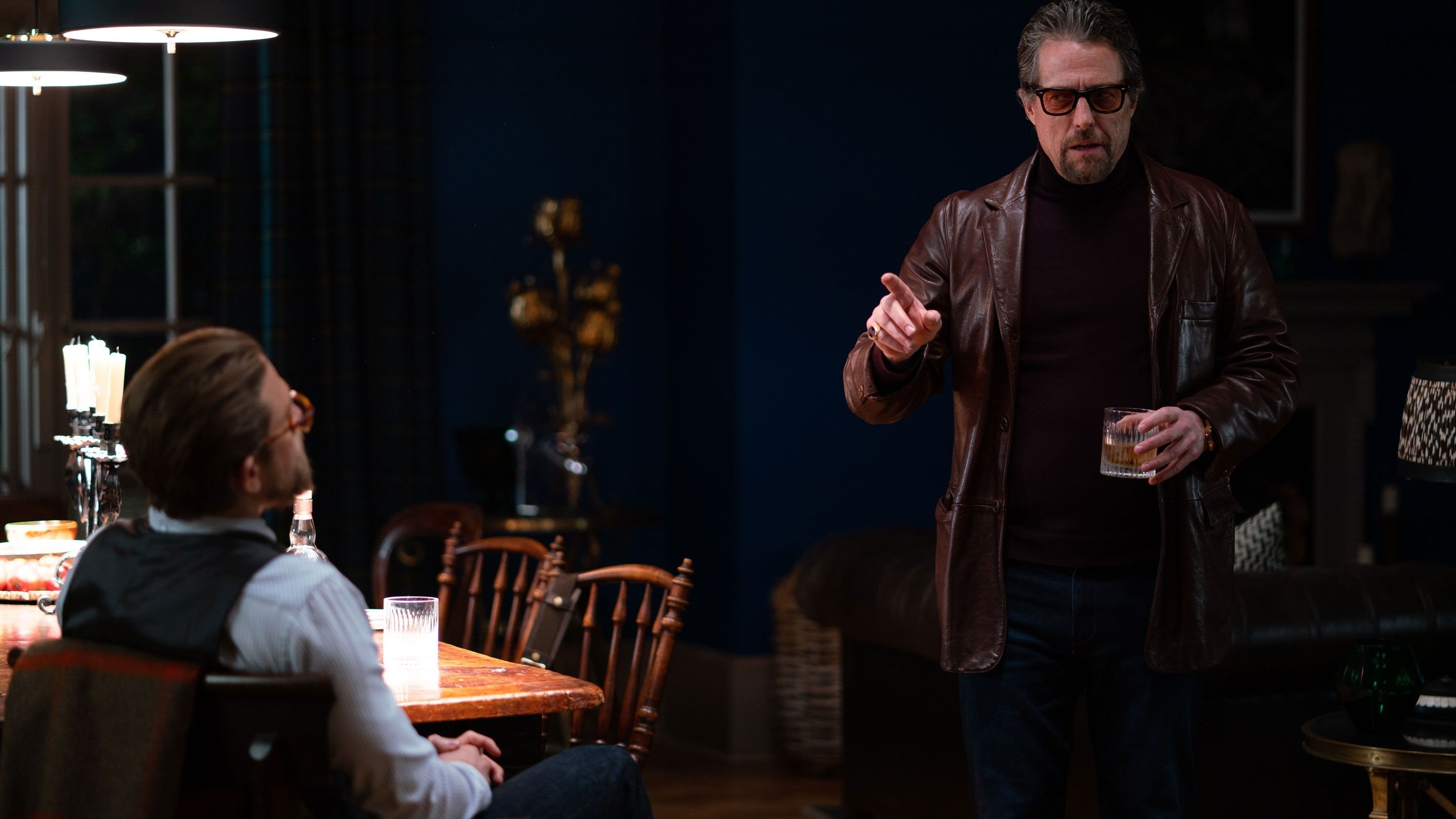 What helps Fletcher across the character is his significant role in the complex narrative structure. And there the author Ritchie came up with something ingenious, which is still so simple because it is obvious. Telling stories is not that difficult. To have stories told in an interesting and exciting way, to explain the plot in a clever way across a second level, that is a fine art. A high art that simply delights a film buff prepared for all outrages. Perhaps it was urgently necessary that Guy Ritchie with Disney's ALADDIN, at least financially, failed so, the quality can simply be ignored. You don't get such an ensemble with a fat paycheck, let alone for a total budget of $ 22 million. Thigh knockers lie here subtle slogans, farce and satire, violence and moments of tension so close together that it almost makes you dizzy. Films of this kind may not be for everyone, that is out of the question, it is promised in any case that these 115 minutes will pass very quickly. We are talking about extreme amusement and not sleep.
As a reference one should definitely take the films BUB DAME KÖNIG grass or SNATCH in order to become aware of what one is roughly getting into. On the other hand, as a moviegoer you can also take a curious look at it. Yes, THE GENTLEMEN also has a not inconsiderable potential for violence. But it's amazing how bloodless and without really seeing anything that brutality inevitable for this genre can be staged without missing its brutal effect. In times when blood and guts are already part of the good form in conventional TV series, THE GENTLEMEN is a really good example of how effective a well thought-out and essential staging can be.